Due to the corona-pandemic all classes are teached digitally.
For further information please ask grk2304@uni-mainz.de
Stay Healthy! Your's RTG 2304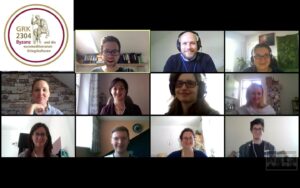 ---
Study Programme Summersemester 2021
14th april 2021, 6 pm
Sophia Sonja Guthier: "Du hast mich überlistet"? Olgas Taufe in der russischen Historiographie des 18. und 19. Jh.
Helen Wiedmaier: "Pauken und Trompeten – die Lautsphäre der Schlacht im 14. Jahrhundert"
3nd May, 10-12 am
Introduction into research data management (registration is requested)
5th may 2021, 6 pm
Sonja Ulrich: "Die Kriegshistoriographie des Orosius - Geschichtsschreibung aus christlich-apologetischer Perspektive"
26th may 2021, 6 pm
Guest lecture Dr. Bernd Obermayer (Catholic Theology, Bonn)
"JHWH und der Krieg - ausgewählte Aspekte der alttestamentlichen Kriegstheologie(n)"
Invitation Guest Lecture Dr. B. Obermayer
9th june 2021, 6 pm
Philipp Margreiter: The Fortified Region of Thugga in Late Antique North Africa. Fortification and Transformation of an Urban Agglomeration in the 6th and 7th centuries
Dr. Tristan Schmidt (Katowice): Blind generals and an emperor under pressure. Isaakios II's command assignments in 1186 and 1187
23th june 2021, 6 pm
internal meeting  of the RTG 2304
7th july 2021, 6 pm
Guest lecture Dr. Klaus Vondrovec (Kunsthistorisches Museum Vienna, Münzkabinett)
"Feinde Roms im Münzbild"
Invitation Guestlecture Vondrovec
for past semesters see archive