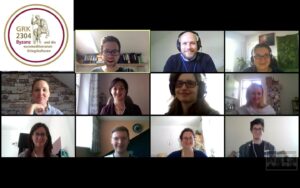 Vorlesungsreihe "Kriegskulturen: Historische und gegenwärtige Perspektiven" des GRKs 2304 im Sommersemester 2022 an der JGU Mainz. Nähere Informationen zur Reihe und den weiteren Vorträgen finden Sie hier Kleine Reihe Kriegskulturen_aktualisiert
Next Guest Lecture: Thursday, 7th July, 6.15 pm
Prof. Dr. Jennifer Wasmuth (Göttingen): Der Krieg in der Ukraine in kirchenhistorischer Perspektive
Study Programm Summer  2022
20. April 2022, 6.15pm (internal Meeting)
4. May 2022, 6.15pm
Project Presentation by Lorenz Kammerer and Juho Wilskman (FINL)
18. May 2022, 6.15pm
Gastvortrag Dr. Daniella Talmon-Heller, (Ben-Gurion University of the Negev): "Saladin's Victory at Hittin (1187) and ensuing Myths and Commemorations"
Dr. Uri Zvi Shachar: "The Co-Production of Militant Dynasties in Eastern Mediterranean Literary Traditions"
15. June 2022, 6.15pm
Project Presentation by Manuel Krumbiegel and Philipp König
29. June 2022, 6.15pm
Project Presentation by Marco Büttner, Guoda Gediminskaité
13. July 2022, 6.15pm
Project Presentation by NN
20. July  2022, 6.15pm - due to organisational reasons the lecture has to be postponed
Gastvortrag Prof. Dr. Andreas Holzem, Tübingen
"'… wurde die Traurigkeit offt mein Herz, alß wie wüttende wellen ein kleines Inselein, vberschwemmen.' Religion und Emotion – Ravensburg im Dreißigjährigen Krieg"
Terminhinweis: Vortrag von Prof. Dr. H.-Chr. Maner (Arbeitsbereich Osteuropäische Geschichte) "Die Moldau - eine Grenzregion zwischen Großmächten. Einige historische Schlaglichter"   Mittwoch, 27. April 2022, 18.15 Uhr via ZOOM. Anmeldung an grk2304@uni-mainz.de
Online Podiumsdiskussion "Der Krieg und seine Auswirkungen in Südosteuropa". Dienstag, 29.03.2022, 16.00 Uhr. Organisiert von Prof. Dr. H.-C. Maner in Zusammenarbeit mit der Landeszentrale für politische Bildung RlP und der Südosteuropa-Gesellschaft, Zweigstelle Mainz.
Lecture by  Prof. Dr. Jan Kusber: Putins Krieg gegen die Ukraine. Eine historische Einordnung. Montag, 14th march, 10-12 am via ZOOM.  Please register by email to s.reichert@uni-mainz.de
for past semesters see archive