Guest Lectures
Mittwoch, 15. November, 18.15 Uhr
Prof. Dr. Johannes Wienand, Universität Braunschweig: Wie ein verlassenes Ei: Die belagerte Hauptstadt bei Theodor Synkellos, Hegelstr. 59, Ground Floor Room 208/212
Abstract des Vortrags: Im Jahr 626 wurde Konstantinopel von einer Allianz bestehend aus Avaren, Slaven, Bulgaren und Gepiden belagert und angegriffen, während ein persisches Kontingent die asiatische Seite entlang des Bosporos kontrollierte. Der Kaiser befand sich in dieser delikaten Situation auf dem Feldzug gegen die Perser etwa 1.000 Kilometer entfernt von der Hauptstadt an der pontischen Schwarzmeerküste. Als Augenzeuge des Angriffs auf Konstantinopel und als Mitglied des Klerus der Hagia Sophia hat Theodor Synkellos wenig später, als der Feldzug des Kaisers gegen die Perser noch immer nicht entschieden war, eine Deutung der erfolgreichen Abwehr der Gefährdung der Hauptstadt entwickelt. Der Vortrag geht der Frage nach, wie der Text mit dem Problem der kaiserlichen Abwehr umgeht und welche Gemeinsamkeiten und Unterschiede in dieser Hinsicht zu anderen zeitgenössischen Texten bestehen. Um das Verhältnis von ereignis-, struktur- und diskursgeschichtlichen Faktoren bewerten zu können, werden auch die faktischen Implikationen der kaiserlichen Abwesenheit und die Konsequenzen für die Reintegration des Kaisers in das hauptstädtische Setting seiner Herrschaft in die Überlegungen einbezogen.
Mittwoch, 20. November, Lecture Recital von Holly Scarborough und Philipp Wingeier, 18.00 c.t. im Hörsaal der Musikwissenschaft / Philosophicum (organisiert in Kooperation mit dem Institut für Musikwissenschaft)
Music of the 16th-century Landsknechte: Maximilian's Military Flute and Drum (Lecture-Recital). Holly Scarborough, accompanied by Philipp Wingeier
Abstract: Recalling Alexander the Great, Emperor Maximilian I credits his domination in battle to the flutes and drums which "uplifted not only the hearts of men, but their sound filled the air besides." These instruments provided an important, characteristic soundtrack for the Landsknechte, playing marching improvisations to keep troops moving and giving crucial signals for attacks and pike formations, thus standing together with the flag-bearer as a triadic military symbol of power. Iconographical and written records reveal a flute-and-drum ensemble which was active both on the battlefields and off-duty with dance and leisure music. An analysis of written repertoire provides examples of how marching improvisations sounded, and certain polyphonic sixteenth-century art songs – whether referencing religious crusade against the Turks or the Landsknechte themselves – are used to propose monophonic music that could have been enjoyed in soldiers' camps and hailed by Maximilian as the reason for his martial success. Musical examples of military, dance, and leisure flute-and-drum music of the Landsknechte will be performed on historical reconstructions of Renaissance instruments by Ensemble Zweigulden < https://www.hollyscarborough.com/zweigulden >
Öffentliche Vortragsreihe Kriegskulturen: Historische und gegenwärtige Perspektiven
Guest Lecture: Tuesday 6th February 2024, 6.15 pm  (P 207)
Prof. Dr. Jan Claas Behrends, Leibniz-Zentrum für Zeithistorische Forschung
Titel: NN
Forschungskolloquium
Im Wintersemester 2023/24 entfällt das reguläre Forschungskolloquium. Stattdessen findet am 21./22. Februar 2024 das interne "Respondent-Format" statt.
Forschungskolloquium Summer 2023
Mittwochs, 18-20 Uhr, Raum SR 02 / 00-016 [BKM] Alle Veranstaltungen werden hybrid organisiert, Info und Anmeldung über grk2304@uni-mainz.de
26. April 2023
Gastvortrag:
Peter Lehnhardt, Amitai Glass (Center for Interreligious Encounter and Conversion, University of the Negev)
"Latter Day War Games in Story and Hymn in Byzantine Jewish Communities"
3. Mai 2023
Projektpräsentation von Maria Rukavichnikova and Marco Büttner
24. Mai 2023 (internal meeting)
21. Juni 2023
Gastvortrag:
Dr. Robert Fliermann (University of Uetrecht)
5. Juli 2023
Projektpräsentationen von Guoda Gediminskaité: Akathistos Testimonies Between Constantinople and Crete in the Late 14th - Early 15th Century: Revisiting Compositional Processes and Ideological Wars
Öffentliche Vortragsreihe Kriegskulturen: Historische und gegenwärtige Perspektiven
Mittwoch, 18-20 Uhr. Raum SR 02 / 00-016 [BKM] Alle Veranstaltungen werden hybrid organisiert, Info und Anmeldung über grk2304@uni-mainz.de
7. Juni 2023
Prof. Dr. Marian Füssel
"Hybride Kriegsführung im Zeitalter der Aufklärung? Der Siebenjährige Krieg als Medienkrieg (1756 - 1763)
12. Juli 2023
Prof. Dr. Marie- Janine Calic
Titel: "'Ethnischen Säuberungen´ im Bosnienkrieg. Einsichten der Täterforschung"
Der Vortrag wird organisiert in Zusammenarbeit mit der Südosteuropa Gesellschaft, Zweigstelle Mainz
Research Colloquium Programm Winter 2022
Wednesday, 6-8 pm  K7 (Kisselberg) and via ZOOM. For information and registration please contact grk2304@uni-mainz.de
23. November 2022
Presentation of doctoral projects by
Deanna Pellerano: "The Singers of the French Chapel at War 1494-1515: Sources and Approaches"
Maria Rukavichnikova: "War Discourse in Times of Crisis: Case Studies of Nikephoros Gregoras and John Kantakouzenos' Histories"
7. December 2022
Presentation of doctoral students by
Eduard Visintini: "Unfreedom in the Merovingian Church: Discourse and Practice in Sixth- and Seventh-Century Francia"
Simon Mallas: "Grenzwahrnehmungen zwischen Wien und Konstantinopel im Spiegel frühneuzeitlicher Reiseberichte"
18. Januar 2023
Presentation of doctoral projects by
Philipp Margreiter: "Spoliierung und Festungsbau im byzantinischen Nordafrika. Abriss und Integration von Vorgängerbauten am Beispiel der Festungen von Thignica und Thugga"
Samira Fischer: "Befestigte Höhenlagen in der Dioecesis Daciae (6./7. Jh.)"
25. Januar 2023
Presentation of doctoral projects by
Goldie Nagy: "Untersuchungen zur Rolle von Equiden im Kontext des römischen Militärs"
Michael Rapp: "Metaphors of war in Early Christianity"
1st February 2023
Guest Lecture by Prof. Dr. Sönke Neitzel (Potsdam)
DFG Forschungsgruppe "Military Cultures of Violence"
8. Februar 2023
Presentation of doctoral projects by
Egor Gvozdev: "Saint Peter the Metropolitan as an Intercessor and Helper in Narratives of War and Religious Conflict (14th-16th centuries)"
Regina Molitor: "Die Grenzgesellschaft an der byzantinischen Donaugrenze aus historischer Perspektive"
Public Lecture Series Kriegskulturen: Historische und gegenwärtige Perspektiven
Information and Registration: grk2304@uni-mainz.de
2. November 2022, 6-8 pm (hybrid presentation)
Dr. Heiko Brendel "Krieg und Gewalt in den südlichen Dinariden - Kontinuitäten und Brüche
vom Mittelalter bis zum 20. Jahrhundert"
11. Januar 2023, 18-20 Uhr (digital via ZOOM)
Prof. Dr. Markus Vogt (christl. Sozialethik, LMU München)  "Friedensethik angesichts der Ambivalenz des Faktors Religion in den gegenwärtigen geopolitischen Konflikten"
Guest Lecture Musicology, 26th January 2023, 6pm
Dr. Patrick Becker-Naydenov (Leipzig): "Musikalische Praktiken durch akustische Messungen und ‹Aural Architecture› rekonstruieren: Fallbeispiele aus Südosteuropa während der Renaissance"
Raum: Hörsaal der Musikwissenschaft, 01 153
GRK Klausurtagung: Friday, 10th February 2023
---
9.-11. Juni 2022 Internationale Tagung Mainz
"War with Byzantium. Legitimation, Consequences and Reception"
find here the Programme Tagung 2022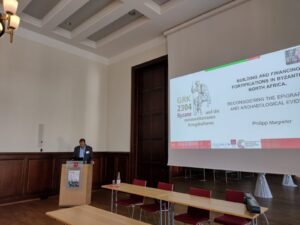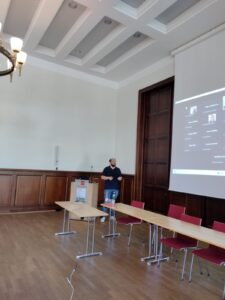 ---
Round Table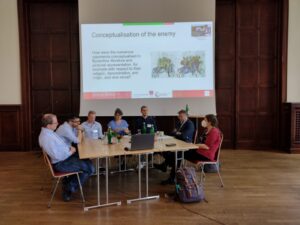 organized by Philipp Margreiter, Regina Molitor und Michael Rapp
---
for past semesters see archive