DFG grants second funding period!
At its meeting on 4 November, the DFG decided to extend GRK 2304. The second funding phase will run from 1.4.2023 to 30.0. 2027. We thank all those involved who have contributed to this success through their work and look forward to the future! See here the official press release www.dfg.de/service/presse/pressemitteilungen
Research Colloquium Programm Winter 2022
Wednesday, 6-8 pm  K7 (Kisselberg) and via ZOOM. For information and registration please contact grk2304@uni-mainz.de
23. November 2022
Presentation of doctoral projects by
Deanna Pellerano: "The Singers of the French Chapel at War 1494-1515: Sources and Approaches"
Maria Rukavichnikova: "War Discourse in Times of Crisis: Case Studies of Nikephoros Gregoras and John Kantakouzenos' Histories"
7. December 2022
Presentation of doctoral students by
Eduard Visintini: "Unfreedom in the Merovingian Church: Discourse and Practice in Sixth- and Seventh-Century Francia"
Simon Mallas: "Grenzwahrnehmungen zwischen Wien und Konstantinopel im Spiegel frühneuzeitlicher Reiseberichte"
18. Januar 2023
Presentation of doctoral projects by Philipp Margreiter: "Spoliierung und Festungsbau im byzantinischen Nordafrika. Abriss und Integration von Vorgängerbauten am Beispiel der Festungen von Thignica und Thugga"
Samira Fischer: "Befestigte Höhenlagen in der Dioecesis Daciae (6./7. Jh.)"
25. Januar 2023
Presentation of doctoral projects by
Goldie Nagy: "Untersuchungen zur Rolle von Equiden im Kontext des römischen Militärs"
Michael Rapp: "Metaphors of war in Early Christianity"
1st February 2023
Guest Lecture by Prof. Dr. Sönke Neitzel (Potsdam)
DFG Forschungsgruppe "Military Cultures of Violence"
8. Februar 2023
Presentation of doctoral projects by
Egor Gvozdev: "Saint Peter the Metropolitan as an Intercessor and Helper in Narratives of War and Religious Conflict (14th-16th centuries)"
Regina Molitor: "Die Grenzgesellschaft an der byzantinischen Donaugrenze aus historischer Perspektive"
Public Lecture Series Kriegskulturen: Historische und gegenwärtige Perspektiven
Information and Registration: grk2304@uni-mainz.de
2. November 2022, 6-8 pm (hybrid presentation)
Dr. Heiko Brendel "Krieg und Gewalt in den südlichen Dinariden - Kontinuitäten und Brüche
vom Mittelalter bis zum 20. Jahrhundert"
11. Januar 2023, 18-20 Uhr (digital via ZOOM)
Prof. Dr. Markus Vogt (christl. Sozialethik, LMU München)  "Friedensethik angesichts der Ambivalenz des Faktors Religion in den gegenwärtigen geopolitischen Konflikten"
Guest Lecture Musicology, 26th January 2023, 6pm
Dr. Patrick Becker-Naydenov (Leipzig): "Musikalische Praktiken durch akustische Messungen und ‹Aural Architecture› rekonstruieren: Fallbeispiele aus Südosteuropa während der Renaissance"
Raum: Hörsaal der Musikwissenschaft, 01 153
GRK Klausurtagung: Friday, 10th February 2023
---
9.-11. Juni 2022 Internationale Tagung Mainz
"War with Byzantium. Legitimation, Consequences and Reception"
find here the Programme Tagung 2022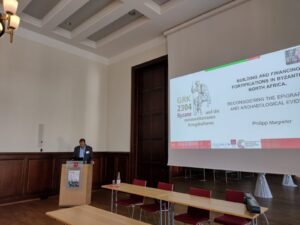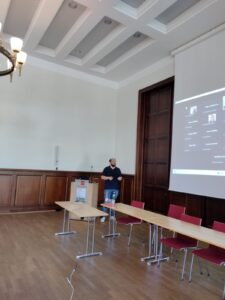 ---
Round Table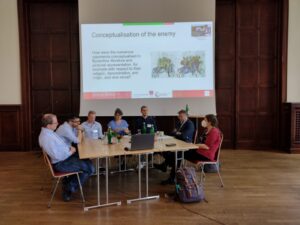 organized by Philipp Margreiter, Regina Molitor und Michael Rapp
---
for past semesters see archive