Sonja Ulrich und Helen Wiedmaier - Tagungsbericht "Geschichte wird von den Besiegten geschrieben", Bochum, 10.-12. Juni 2021
Die von der Universität Bochum organisierte Tagung 'Geschichte wird von den Besiegten geschrieben. Darstellung und Deutung militärischer Niederlagen in Antike und Mittelalter' (10.-12.6.) bot für uns - Helen Wiedmaier und Sonja Ulrich -  wie für zahlreiche WissenschaftlerInnen aus verschiedenen Epochen einen tollen Anlass, um sich über das große und spannungsreiche Feld geschichtlicher Niederlagen auszutauschen.
Das Programm umfasste eine Dauer von 3 Tagen voller anregender Vorträge, die sich ihrerseits mit einer Zeitspanne von den Anfängen der antiken Geschichtsschreibung bis hin zu mittelalterlichen Chroniken erstreckten. Für unsere eigenen Themengebiete, die wir in diesem Rahmen präsentieren konnten, waren Gesamtthema der Tagung, Austauschmöglichkeiten, Rückmeldungen und Ergebnisse eine große Anregung. Sonja Ulrich sprach über die Kriegshistoriographie des Orosius, die aus der Niederlage der Romplünderung unter Alarich und den Goten heraus entstanden ist, während sich Helen Wiedmaier mit der Gegenüberstellung verschiedener Personen in der spätmittelalterliche Historiographie und deren Funktion als positive oder negative Vorbilder für die Lesenden der Texte auseinandersetzte. Dass gerade das Feld von Niederlagen, deren Darstellungen und Deutungen großes Potential eröffnet, um den Blick für problematische Ereignisse und deren Verarbeitungsprozesse zu schärfen, wurde als ein Ergebnis dieses interepochalen Austausches deutlich.
Die Ergebnisse der Tagung werden sicherlich für die weitere Arbeit an unseren Dissertationen noch lange gewinnbringend sein. Ein Publikationsband soll im Lauf des nächsten Jahres erscheinen.
"Coinage goes digital"
Check out NumisVlog! A new YouTube Channel presents the Variety of Numismatic Research. German speaking researchers of all stages of academic career present special Coinage and show their historical background in entertaining story telling videos. Our PhD student Sophia Hanelt contributes with a video on Vota Coinage on the Occasion of Imperial Anniversaries. You can finde the video  here.
NumisVlogs is an initiative founded by the Hochschulrektorenkonferenz (HRK) and the Bundesministerium für Bildung und Forschung (BMBF). The aim of this project is to present scientific research to a wider audience and especially to younger generations. More information (in german) here.
Happy Easter!
---
Presentation by Florian Groll at the workshop "Family Affairs. Ancient families in conflict – among legacy, resilience, and identity"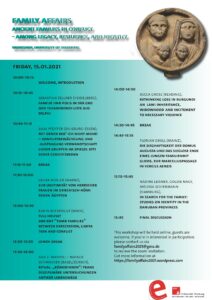 On January 15, 2021, the Institute for Archaeology and Cultural History of the Ancient Mediterranean, located at the University of Hamburg, organized the workshop "Family Affairs. Ancient families in conflict – among legacy, resilience, and identity". The event shed light on how families in antiquity dealt with conflict situations of various kinds from both an old historical and an archaeological point of view. Our doctoral student Florian Groll (Old History) participated with  the  lecture "The victory of the Roman imperial family and the winless end of a young family member. To the Marcelluspassage in Virgil's  Aeneis" at the workshop. In his contribution, he showed how Virgil manages to capitalize on a grand slam in his text through a sophisticated poetic  process, but from a major setback for the first Roman princely epsus augustus, the death of his nephew Marcellus. Virgil achieves this by pointing out that Marcellus was so overpowering and excessively victorious  that even the gods had disapproved of the expected supremacy of Rome and therefore took the young man out of his life. Florian Groll explained that through  this strategy the poet on the one hand conceals the  gloriousn illness death of Marcellus  and on the other hand creates the  paradoxical  impression  that this unfortunate event wasalmost a  testament  to  the  enormous efficiency of the deceased.  The death of a young member of the  domus  Augusta  is thus transformed by Virgil by a setback in need of explanation, the Augustian narrative of success, into the complete opposite, a proof of the enormous victory of the Roman ruling house. The Marcellus Passage thus shows how well the Augustian representation of domination was able to convey a steadfast, resilient image of the family of the Prinzeps  and thus contribute to its establishment at the head of the Roman community.
---
Presentation by Bart Peters at the conference Wege aus der Krise. Umbrüche und Normalitätsnarrative in Franken in vergleichender historischer Perspektive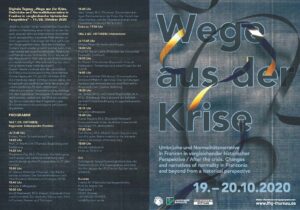 On October 19th and 20th, the Institut für fränkische Landesgeschichte of the universities of Bayreuth and Bamberg hosted the conference Wege aus der Krise. Umbrüche und Normalitätsnarrative in Franken in vergleichender historischer Perspektive. Inspired by the current global crisis caused by the pandemic, the interdisciplinary conference explored historical examples of returning 'back to normal'. It started with papers discussing local examples from Franconia on the first day of the conference. The second day, during which Bart Peters presented his talk, consisted of a part of a series of papers that offered a global perspective on 'ways out of the crisis' beyond Franconia. The conference's aim was to shed more light on the process in the aftermath of a crisis, when humankind tried to return to a normality that was perceived to be lost. However, this 'new normal' was always marked by a change compared to the previous normality. Central questions asked were: How was this path to a 'new normal' achieved? Who was involved in the decision-making process? What was the effectiveness and sustainability of the changes? These questions will also be central to an edited volume which will be published in the near future. Our PhD-Candidate Bart Peters gave a talk on how battle speeches could influence crisis situations in battles based on examples from the eleventh-century Latin epic poem The Deeds of Robert Guiscard authored by William of Apulia.
---
Merry Christmas! Your's RTG 2304!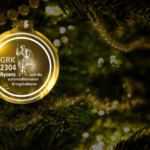 ---
Am 20. November 2020 das GRK 2304 Frau Prof. Dr. Reinhardt (Erlangen / Nürnberg) und Frau Prof. Dr. Schlie (Augsburg) zu einem digitalen Workshop unter Leitung von Frau Prof. Dr. Verstegen (Erlangen / Nürnberg) gehören. In Bezug auf unsere Dissertationsprojekte wurden aktuelle Herangehensweisen und Theorien der historischen Bildanalyse behandelt. Vertieft und Angeregtes wurde das Wissen zudem durch die direkten Anwendungsungsanalysen und das Beispiel des Mittelalters und der klassischen Antike. Wir haben uns herzlich bei den beiden Vortragenden!
---
Lecture by Helen Wiedmaier at the conference Ein(ver)nehmen? 'Eroberte' als Diskursteilnehmer zwischen Selbstinszenierung und Sinnstiftung in der Vormoderne
At the conference Ein(ver)nehmen? 'Eroberte' als Diskursteilnehmer zwischen Selbstinszenierung und Sinnstiftung in der Vormoderne, taking place from November 12 to 14, 2020 at the Christian-Albrechts-Universität in Kiel, our PhD candidate Helen Wiedmaier gave a lecture on the depiction of the defeated ('Besiegten') in the historiography portraying the fourteenth-century Battle of Mühldorf. The lecture was discussed lively and regarded as a valuable contribution to the overarching topic of the conference. The conference dealt with the role of the conquered and the vanquished with a special focus on the different perceptions of historical events by these distinctive groups. For example, conquerors ('Eroberer') often tried to legitimize their actions, while the conquered ('Eroberte') - depending on whether they were on the losing or winning side – either used narrative to attack the conquerors ('Eroberer') or to deny their own defeat. In addition, the notion of the conquered ('Eroberte') was discussed lively: it was established that it has to be defined differently depending on the situation. Sometimes conquerors ('Eroberte') did not perceive themselves as such, or there were various forms of cooperation with the conquerors ('Eroberer'). The conference made it possible to shed light on this problem using various examples from the early Middle Ages to the Early Modern period, and to gain new knowledge and to share it with each other.
---
Latin summer school in Bern
From August 31 to September 11, the annual summer course Fachspezifisches Latein took place at the University of Bern, to which our PhD candidate Helen Wiedmaier successfully applied. During the course, the participants dealt intensively with Latin sources ranging from the time of Classical Antiquity to the Early Modern Era. They translated texts together, examined grammatical phenomena and discussed topics requested by the participants, such as Bible translations or epigraphy. Helen Wiedmaier, like the other participants, also had the opportunity to discuss individual sources from her dissertation with Prof. Dr. Gerline Huber-Rebenich and to receive valuable inspiration for further work.
---
Im Rahmen der EU-Projekte Forschungsinfrastruktur für Religionswissenschaft (ReIReS) für Dr. Ana-Maria Raducan (Bukarest) und der JGU zu "Byzantinischen Mystikern und Philosophen". Wir haben uns, das wir sie gehört in einer kleinen Gruppe im GRK.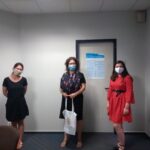 ---
>
Die neuesten Informationen und Bilder finden Sie jetzt auf Facebook: www.facebook.com/GRK2304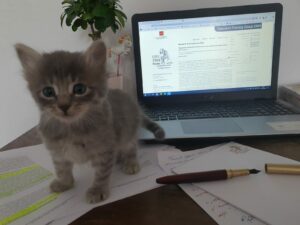 [/ rechtespalte]